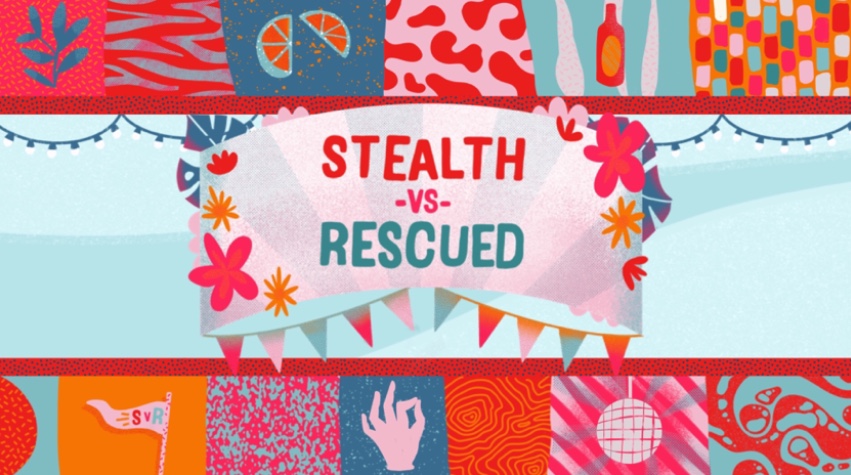 Welcome to Stealth Vs Rescued Summer 2019!
2 Clubs
5 Different Areas Of Music
6 Bars
7 Hours of partying
Every Saturday, Nottingham's two best Nightclubs combine forces, to provide one unbeatable indoor party: a multi-venue festival experience, that creates a night to remember!
▬ ▬ ▬ ▬ ▬ ▬
District 1: Stealth
House, Techno, Disco, Tech-House & 90s Dance
Previous guests: Annie Mac, Camelphat, Danny Howard, DJ Boring, DJ Seinfeld, Denis Sulta, Kettama, Latmun, Mall Grab, Michael Bibi, Ross From Friends, Solardo & hundreds more!
Location: Stealth Room 1 (Upstairs).
▬ ▬ ▬ ▬ ▬ ▬
District 2: Magic City
Rap, Hip-Hop, Drill, Trap & RnB
Expect to hear: A$AP Rocky, Cardi B, Drake, Giggs, Post Malone, Skepta, Sheck Wes, Stormzy, Travis Scott & more.
Location: Stealth Room 2 (Downstairs).
▬ ▬ ▬ ▬ ▬ ▬
District 3: Rescued! Indie Disco
Indie, Britpop & 80s Alternative Anthems
Expect to hear: Oasis, Arctic Monkeys, The Killers, Catfish & The Bottlemen, Foals, The 1975, Kings Of Leon, The Smiths, Jamie T, The Strokes, Kasabian, Blur, Franz Ferdinand, Tame Impala, The Stone Roses, Two Door Cinema Club, Idles, Bloc Party, Razorlight, Wolf Alice, The Cure & many more!
Location: Rescue Rooms Venue
▬ ▬ ▬ ▬ ▬ ▬
District 4: The Loft
Guilty Pleasures and '70s, '80s & '90s Throwback
Expect to hear: ABBA, A-Ha, Backstreet Boys, Britney Spears, Cher, Chic, Culture Club, Madonna, N*Sync, Rick Astley, Robbie Williams, S Club 7, Spice Girls & more!
Location: Rescue Rooms Red Room.
Free Glitter from 11pm-2.30am!
▬ ▬ ▬ ▬ ▬ ▬
District 5: The Jukebox
Funk, Soul & Motown
Expect to hear: Al Green, Aretha Franklin, Curtis Mayfield, James Brown, Jackie Wilson, Luther Vandross, Kool & The Gang, Marvin Gaye, Otis Reading, Stevie Wonder, The Four Tops, The Temptations & more.
Location: Rescue Rooms Main Bar.
▬ ▬ ▬ ▬ ▬ ▬
Free entry before 10.15pm
▬ ▬ ▬ ▬ ▬ ▬
1,200 party people each week
Drinks from £1.50
Confetti & Festival Style Production
Two massive outdoor terraces
Cocktails from £3.50
World Class Funktion One Soundsystem
Free Glitter
World Class Guest DJs
Drinks offers all night
Photo booth in the Main Bar
Voted 'Nottingham's Best Club Night'
Open until 5am
The two largest smoking areas in town (where you can drink and smoke at the same time)!
▬ ▬ ▬ ▬ ▬ ▬
FREE GUESTLIST We are offering free entry to the first 200 people who come in on the guestlist on Saturday before 11pm. To get on the guestlist, just click 'going' or 'interested' on the Facebook event for that week: https://www.facebook.com/pg/StealthVsRescued/events/
▬ ▬ ▬ ▬ ▬ ▬
Limited £5 Guaranteed Entry Queue-Jump Tickets:
www.alttickets.com/stealth-vs-rescued-tickets.
▬ ▬ ▬ ▬ ▬ ▬
Conditions of entry:
Open to anyone aged 18+
Pay on the door from 10.15pm until 2am
No ID, No Entry
▬ ▬ ▬ ▬ ▬ ▬
Stealth Vs Rescued
Every Saturday – Nottingham's Best Club Night.
#StealthVsRescued