ESCAPE THE FATE ARE HERE ON 30TH JAN NEXT YEAR!
HERE'S NEWS FROM THE BAND ON THEIR NEW ALBUM: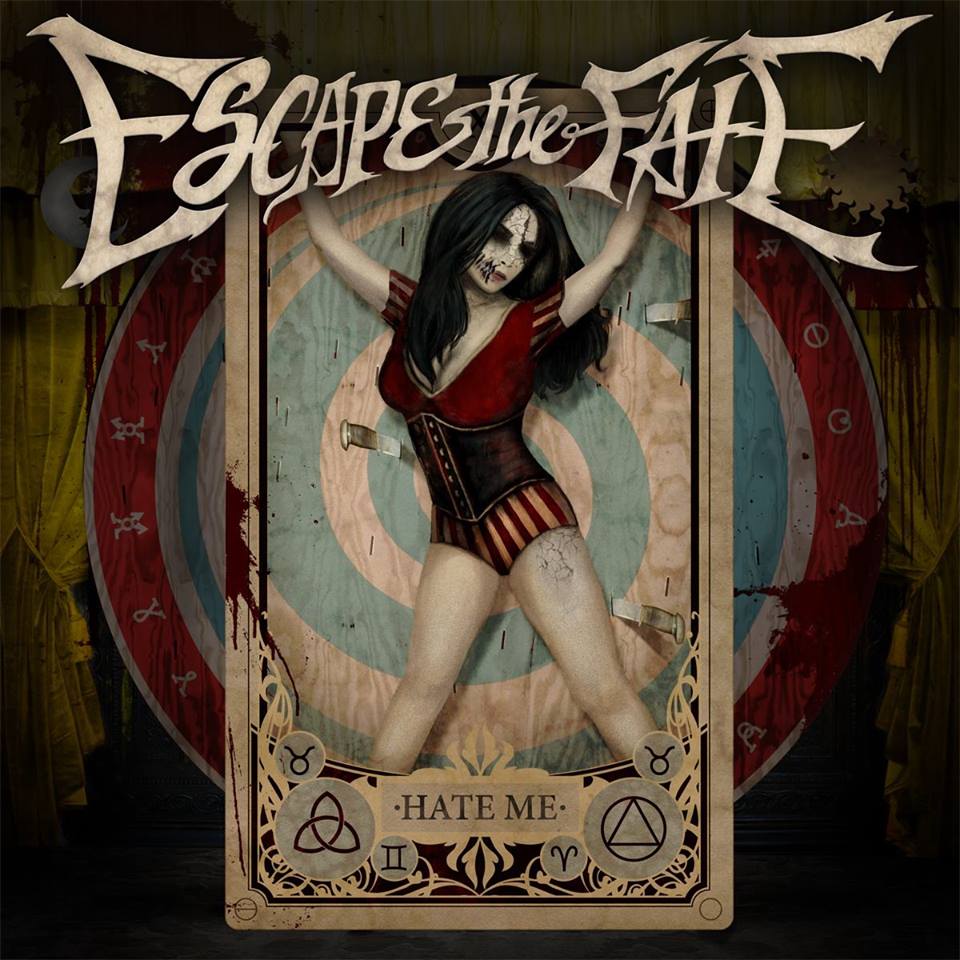 THEIR NEW ALBUM
HATE ME TO DROP 10/30/15
THE HATE ME TOUR TO HIT EUROPE IN EARLY 2016
ESCAPE THE FATE is proud to announce the release of their new album, HATE ME, on October 30, 2015. Along with this album announcement the band will put tickets for their October/November headline tour this week (Friday). Stateside the tour is with A Skylit Drive, Sworn In, Sirens & Sailors and Myka. Support on the European dates are to be announced later.
The album was titled HATE ME because "Lyrically, a lot of these tracks are based around the hate we've received over the years and just embracing that and using it to our own advantage," says Mabbitt. "I've had to step up to the plate lately, for the fans as much as anything else, because they take the name Escape The Fate very seriously and I owe them something for that, for all the support they've shown us over the years. It's very humbling for me to be able to listen to this collection of songs and think about where we've come from and what we've been through to get to this point."
The lead-off track, "Just A Memory," is being given away for free for the next 48 hours via www.escapethefate.com. The video for "Just A Memory' will debut online on Tuesday too. The public tour on-sale will coincide with pre-orders of HATE ME becoming available via all digital retailers.
The HATE ME tour (#hatemetour) launches in October in Anaheim, CA and will continue into Europe in early 2016. With a stint on this summer's Warped Tour already under their belts the band is raring to go "So fucking stoked to play live on our Headlining tour," says Guitarist Kevin "Thrasher" Gruft. "I'm really excited to showcase a newly designed set list; including songs off our new album "Hate Me". As always, we cannot wait to meet all of you at the shows. This is a tour you do not want to miss!!"
What we are about to witness, with HATE ME, is a re-incarnated, reborn, rejuvenated Escape The Fate firing on all cylinders once more. This is a band that,after a 10-year tenure, are still as hungry as they've ever been. "It's the start of a new era for us," confirms Mabbitt. "We're getting back on our feet, putting our middle finger up to the world and proving ourselves individually and collectively. Everyone in this band now wants the same thing: we want to play our music for as many people as possible and be a unit, a gang. We've been envious of bands who have always had that but now we have that and it's a wonderful feeling." The message from the Escape The Fate camp is louder and clearer than it has even been in the past: "We're coming for everyone and we aren't taking any prisoners!"
Get tickets for their gig here:
http://www.alt-tickets.co.uk/escape-the-fate-tickets
x