Our Nearest Car Park is the Q-Park Talbot Street (Talbot Street, Nottingham, NG1 5GG), which is approximately 162m away from the Talbot Street entrance of Rescue Rooms. Disabled Parking is located on the entrance to the car park, with no steps needed to exit the car park.
Blue Badge holders can also park on Wollaton Street (0.1 miles) or Clarendon St. (0.2 miles)
We advise for Safety reasons the drop off point would be Stanley Place (See Map). This is 80m away from the Talbot Street entrance and is safe for blue badge holders. There is also a 'disabled' drop off point at the theatre further down Talbot Street.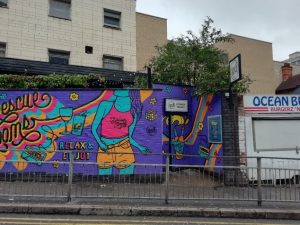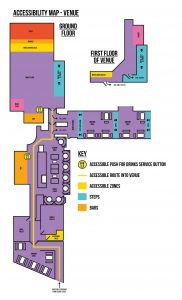 There is a Tram Stop on Goldsmith Street (Theatre Royal Stop), which is 390 feet away from the Talbot Street entrance/exit. There are also several Bus Stops on Parliament Street/King Street/Queen Street (0.2 miles) which lead to different parts of Nottingham. Please check availability by going on www.nctx.co.uk .
Nottingham Train Station is 0.8 miles away from our venue – in taxi it would take 7 minutes.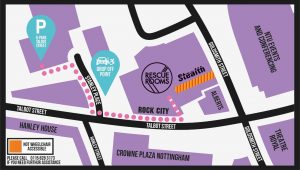 Ticket and access Accreditation Collection:
When arriving you must have your ticket in either paper or mobile form, which will be scanned on entry. Your personal assistant must have I.D That matches with the name on the Personal Assistant section of our ticket collections and the Alt-Ticket reference number. You then take the short trip through the doors into the venue itself.