Access Starts Online – Venue Access Info
1. Introduction
The customer experience is paramount to us at Rescue Rooms, for all our visitors. We've been working with Attitude is Everything to improve accessibility and are working towards the Bronze Award.
2. Contact Details
Rescue Rooms
Name: Nick Walters (General Manager Rescue Rooms), Meg Cooper (Office Manager) Email: nick.walters@dhpfamily.com and meg.cooper@dhpfamily.com
Phone: 0115 8283173 – Between 10am – 6pm Monday to Saturday
Response Time: within 24 hours.
Alt-Tickets
Name: Access Team Email: access@alttickets.com
Phone: 0115 896 4456
Response Time: Within 2 Hours
Click here to download our information as a Word Document: Rescue Rooms Venue Access Information.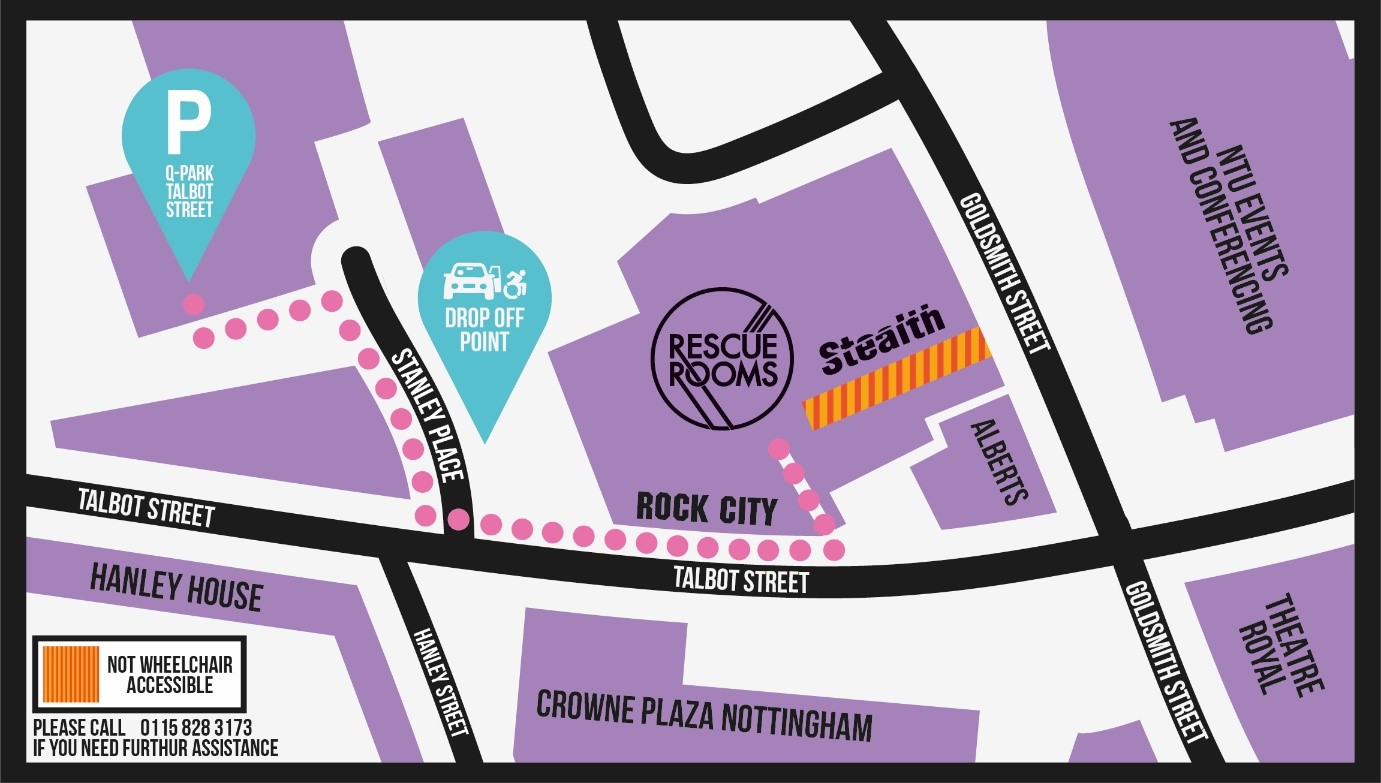 4. Venue Description
Ramp Access is available via the entrance on Talbot Street, next to Rock City. There is level access throughout the ground floor (including access to our main venue room) and an accessible toilet (Radar Key operated). Please note, our Red Room and Balcony are on the first floor. Our security teams are not able to assist in transporting people in wheelchairs upstairs to the first floor, however if you can make your own way up to the first floor, or with the assistance of your Personal Assistant, security can assist with carrying wheelchairs upstairs.
5. Venue Opening Times:
Monday – Saturday: 4pm – 3am
Sunday: 6pm – 3am (Only when an event is on)
Gig times usually start between 6pm and 7.30pm, with event Curfews being between 10pm and 11pm. Gig start times and curfews are usually dependant on the day of the week. Please refer to your ticket, and our social media channels and website for set times.
6. Venue facilities
The accessible toilet is located on the ground floor near the Talbot Street Bar entrance (25m away from the Venue entrance). It is opened with a Radar key, if you do not carry one – please ask at the bar or security for a radar key.
There are toilets located on the first floor also (25 meters away from the venue).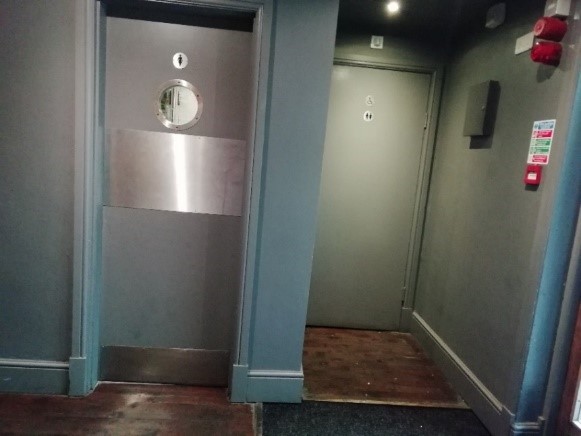 Bars are in The Bar and Venue on ground level, and in Red Room on the first floor. The bars do not have a lowered section for wheelchair users currently. Bars are equipped with white boards/notebooks for customers who require a nonverbal way of ordering.
A hearing loop is available – when booking your ticket please inform us you require one via access@alttickets.com or telephone 0115 896 4456 and communicate with the security/reception team on arrival.
7. Personal Assistant Tickets
Personal Assistant tickets are available free of charge, if applicable. To receive your Personal Assistant ticket, please book a standard entry ticket and email proof of eligibility to access@alttickets.com or telephone 0115 896 4456. We may need: F
– Front page of DLA / PIP
– Front page of Attendance Allowance letter
– Registration of severe sight impairment
– Recognised Assistance Dog ID card
– Access Card
8. Viewing Areas
The venue has two viewing areas, one situated at the front of the venue directly in front of the stage and the other is on the first floor Balcony facing the stage – The diagram below gives further information.
For customers who require a seat we will provide a stool/chair. If you require a seating please email access@alttickets.com or telephone 0115 896 4456 when booking your ticket and on the night notify the receptionist or security on entry who will provide you with one.
We suggest getting to the venue 10/15 minutes before the doors open for the gig and speaking to a member of our security team or management to gain early access into the venue.
Rescue Rooms Entrance – Talbot Street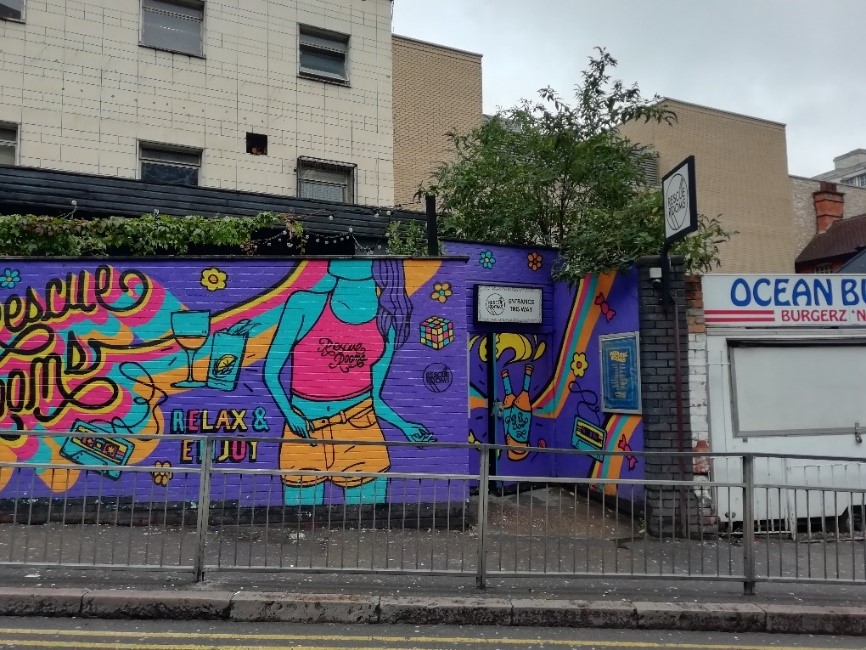 9. Travel Guide
Our Nearest Car Park is the Q-Park Talbot Street (Talbot Street, Nottingham, NG1 5GG), which is approximately 162m away from the Talbot Street entrance of Rescue Rooms. Disabled Parking is located on the entrance to the car park, with no steps needed to exit the car park.
Blue Badge holders can also park on Wollaton Street (0.1 miles) or Clarendon St. (0.2 miles)
We advise for Safety reasons the drop off point would be Stanley Place (See Map). This is 80m away from the Talbot Street entrance and is safe for blue badge holders. There is also a 'disabled' drop off point at the theatre further down Talbot Street.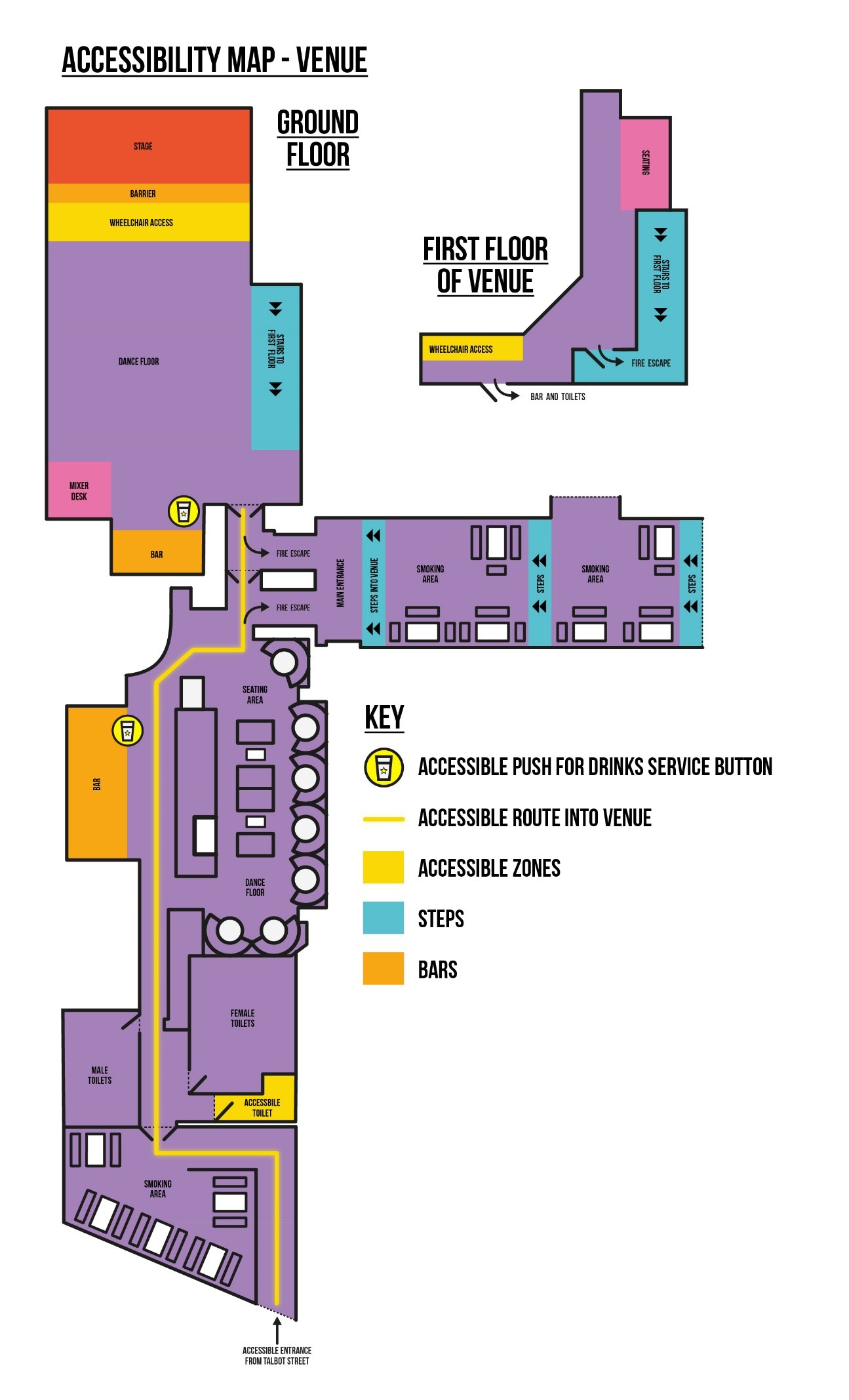 There is a Tram Stop on Goldsmith Street (Theatre Royal Stop), which is 390 feet away from the Talbot Street entrance/exit. There are also several Bus Stops on Parliament Street/King Street/Queen Street (0.2 miles) which lead to different parts of Nottingham. Please check availability by going on www.nctx.co.uk .
Nottingham Train Station is 0.8 miles away from our venue – in taxi it would take 7 minutes.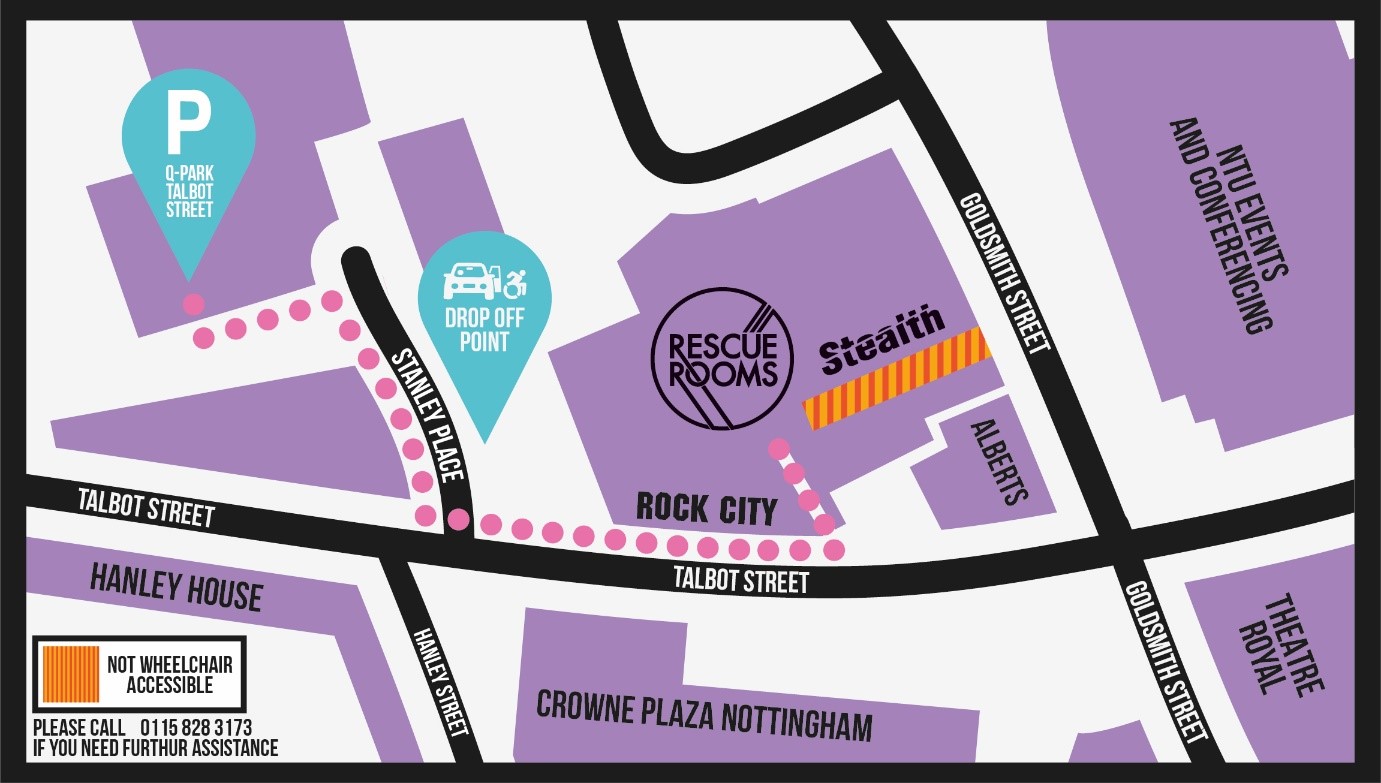 Ticket and access Accreditation Collection:
When arriving you must have your ticket in either paper or mobile form, which will be scanned on entry. Your personal assistant must have I.D That matches with the name on the Personal Assistant section of our ticket collections and the Alt-Ticket reference number. You then take the short trip through the doors into the venue itself.
10. Customers with Medical Requirements
Storage is available for customers medicines, including a fridge. If you need to bring food/drink to aid a medical condition into the venue, we can store this also. Please contact access@alttickets.com or telephone 0115 896 4456 when booking your ticket and on the night notify the receptionist or security of your requirements.
All management are First Aid Trained on site and have adequate medical kits to help with injury.
11. Access to Performance
At this present time we do not offer loops, intra red, mobile connect, British sign language, captioning, Audio description or relaxed performances during the performance. However, in reception we do have a hearing loop which will help people communicate with our staff when needed.
12. Assistance Dogs
If you will be bringing an assistance dog, please contact access@alttickets.com or telephone 0115 896 4456 when booking your ticket. You will be asked for your Assistance Dogs UK registration details.
A dog bowl of water is supplied for the dog when they require a break and the patio is the perfect spot for some chill out time!
If you would like to discuss noise levels/facilities for individual performances, please ring the venue for more information.
13. Strobe Lighting
For some gigs, strobe lighting will be used during our shows. If this is the case, we will announce on social media and put posters around the venue and bars warning this will be taking place this evening.
14. Other Info
We're currently installing a dedicated bell system at both our bars for people in a wheelchair, as the bar is not currently lowered. Pressing the bell will alert the bar team who will come and meet you and place the order.