We are very excited to announce that we will once again be part of the incredible, city-wide charity fundraiser Beat The Streets on Sunday 30th January 2022, helping to raise funds for the Framework Housing Association and bring further awareness to the rising homelessness crisis in Nottingham.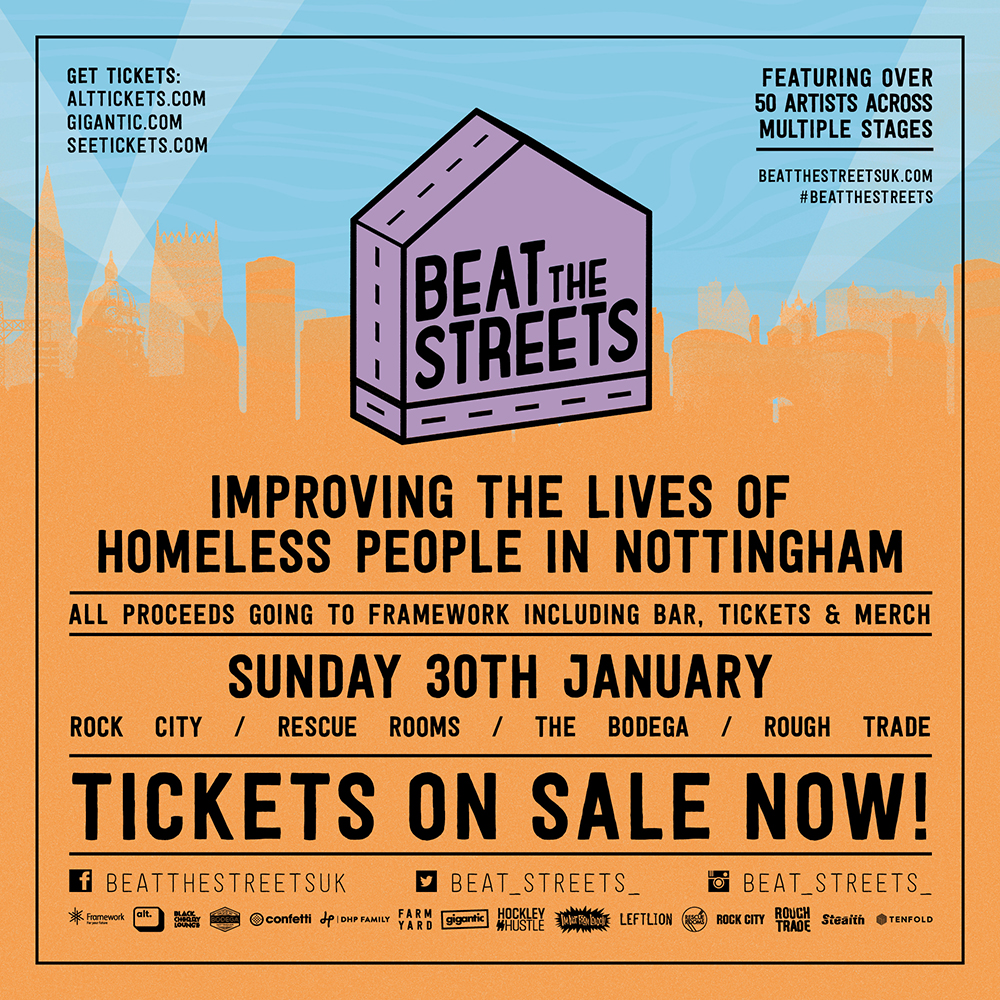 Launched in 2018, Beat The Streets has brought the music community in Nottingham together to raise awareness of and funds for a vital cause; providing a stellar day of live music in the process. The three successful events over the past four years have seen over 10,000 tickets sold, incredible performances from the likes of Sleaford Mods, Jake Bugg, Saint Raymond, Evil Scarecrow, Ferocious Dog & Rolo Tomassi, and over £270,000 raised across ticket, bar & merchandise sales for Framework.
The funds raised by Beat The Streets so far have gone towards keeping the Sneinton Hermitage shelter open all year round; accommodating more than 60 high risk service users, employing two full time mental health workers to provide much needed support to over 1,500 service users with complex needs including substance misuse, and supporting the charity & its service users throughout the Covid-19 pandemic.
The line-up for the 2022 event is yet to be revealed but will once again give local Nottingham musicians a prominent place alongside national touring artists and big names, bringing some of the most in-demand acts together on one bill, all of whom will all play a significant part in helping the festival to achieve its main aim: helping to eradicate homelessness in the city of Nottingham. The festival will take place across major venues in the city centre including Rock City, Rescue Rooms, Stealth and The Bodega, with all proceeds from tickets, bar, and merch going directly to Framework.
A spokesperson for Framework said: "Beat The Streets is Framework's biggest and most well-known partner led fundraising event of the year. It raises much needed money to support our work with homeless people in Nottingham and beyond, and allows us to provide additional mental health support to those who need it most."
Tickets priced from £8 minimum donation, are on sale now from alt.tickets – line-up announcements are due to follow shortly, please keep an eye on the social channels or the festival website for updates.