Massively chuffed to say that internationally renowned footwear kings Dr. Martens will be coming down to party with us at Stealth vs Rescued this Saturday!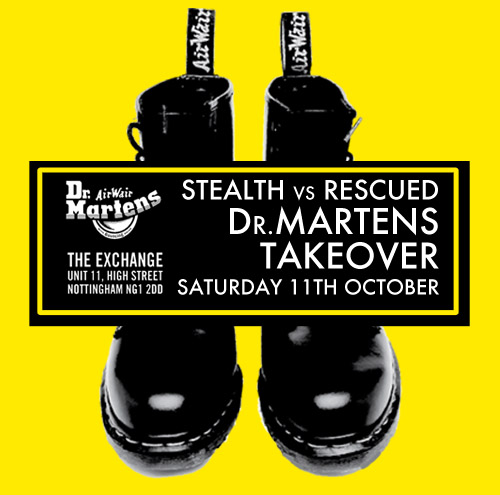 SvR is the best (maybe only?) mini-festival in town, with 5 rooms of different DJs, more bars than you can count, excellent smoking terraces and the best atmosphere you'll find on a Saturday… so it's no surprise that the most rock n roll footwear brand in the world wants to get involved!!
Come down this Saturday and make a stand with Dr. Martens. They'll be taking over the Rescue Rooms main venue, with visuals, banners and giveaways! There'll be 20% off vouchers as well as 2 golden tickets which will get you a free pair of the coveted boots… Not to mention a balloon drop and a mini tattoo parlour! We'll be joined by the best-dressed DJs in town Bitter Strings, who'll be supplying the finest rock n roll, northern soul, motown, indie and punk sounds!
Get free entry before 11 by joining the Facebook event here:
https://www.facebook.com/events/739470159459492/
Come on down and party with us and Dr. Martens!!
#STANDFORSOMETHING