SLEAFORD MODS BRING IT HOME.
Words by Ajay Stevenson, photos by Liam Westnidge.
Last night, Tuesday 27th January 2015, was incredible.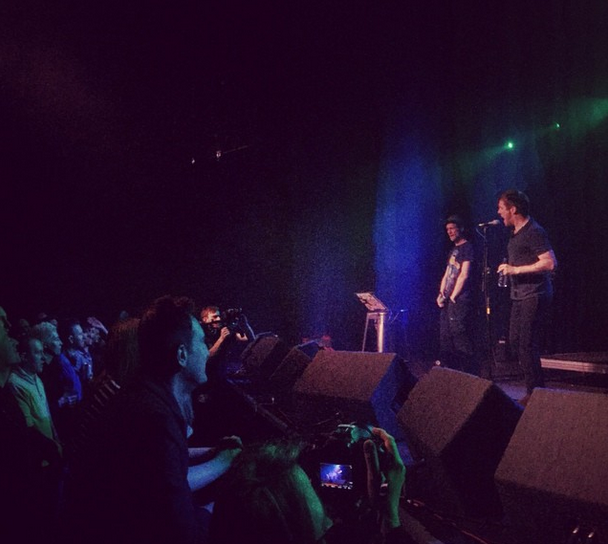 We're very proud to have had Nottingham's underdogs Sleaford Mods play a monumental sell-out show on our stage.
It's a big deal, one of their biggest gigs yet, but you wouldn't know it. Frontman Jason Williamson casually strolls in a couple of hours before the gig & grabs a beer or two in the bar, which tells you everything you need to know – he's the normal, pint sipping every-man. Their appeal stems from this exact fact – disaffected Brits everywhere (not to mention folks overseas too) can see a bit of themselves in the scathing, discontented scowl of Sleaford Mods.
They take to the stage as the perfect duo. Jason's about-to-bring-the-truth-to-the-masses assured swagger versus Andrew Fearn's casual stroll to settle in for the night, bottle of beer in hand. Fearn's the man behind the relentless beats that give Sleaford Mods their unstoppable drive, and on stage he's clearly more than happy to sit back, standing behind his laptop, and let Jason let rip. It's actually refreshing to see him standing and head-bopping, enjoying their own music while swigging a lager, again making them seem more like punters than rockstars.
The extended set flies by, a tirade of thumping beats and basslines with punk poetry and shouted epiphanies on life, work and where we're at as a country. 'Ello Derby' Williamson says at one point, joking with the crowd, while his lyrics on the City Council and common sights to see while walking past Notts' Wilkos show that they have nothing but heartfelt, angry, emotional, twisted love for their city and it's people. They're local lads, and now they're taking the home-grown, uniquely Nottingham sound to stages across the world.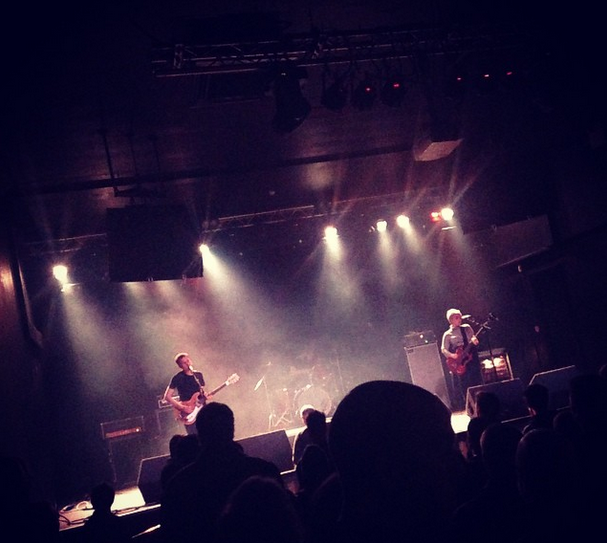 It's fitting then that their support, Kagoule, are making ripples too. While the older chaps of Sleaford Mods hurl their anti-establishment tirades with a world-weary anger, the young grunge-noise-makers of Kagoule bring a freshness to their 90s-influenced sound in a way that is defiantly Notts. The trio are self-confessed lovers of Smashing Pumpkins & Sonic Youth, and you can hear the adoration in their tunes. Re-use & recycle, take what you know, what you've grown up with, mess it around, put your own spin on it, and create something entirely new. Kagoule have nailed a killer combination of rock, grunge and punk that's gone down a storm when they've supported the likes of Drenge and Temples. Their live show is a chest-thumping wall of fuzzy, heavy guitar and pounding drums that easily fills our venue room and has managed to drag all our gig-goers down nice and early to make sure they catch the rebellious show.
All in all, an incredible night of music, with a sold-out, eager turn out from all corners of Notts. While we've seen the likes of Saint Raymond, Indiana and Amber Run rise up to take the pop-geniusness of Nottingham's songwriters to the national (even global) stage, it's now equally refreshing to see the underground, rebellious sounds of Sleaford Mods leading the way for other underdogs. After all, this is the city that raised Robin Hood, right? It's time for the modern musical equivalents to rise up and take on the world.
*