The Alabama 3 will be rocking our stage as part of their 'Lost and Found 2015' Tour!!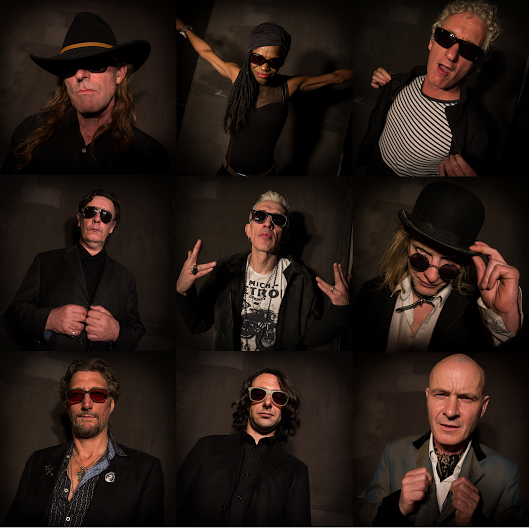 Here's the word from the band:
Rebellion. Ruin. Repentance. Reconciliation. Restoration…
welcome to the Prodigal Journey of Alabama 3.
For the lost highway called, and so we went and lived loosely, squandering our estate on expensive fuel in lowly service stations, spending gold, without shitting silver.
We searched for glory and could not find her. We tried real hard, and for a time we thought we had her in our grasp. But in the morning, we pulled her lashes from our mouths, and her bullets from our spleens and left through a back alley, limp and feeling used.
We searched for opportunity and could not find her. We signed up to her mail out. But she phished us for our last drachmas, down graded our devices and hash tagged our ruin.
We searched for wealth and could not find her. We tried real hard, and for a time we thought we clutched at least her shadow. But she deserted us on a sinking raft, and left us to starve on the outskirts of the eurozone.
We searched for death and could not find her either. We tried real hard, and for a time we thought we'd been invited to her table. But she was just a common cough we caught mining crystals and smoking quartz, in a cave of gorgeous squalor.
So after laying with swine for too long, we grew hungry for the old stretch, the familiar robes and the fattened calf that perhaps waited for us at home. We found our way onto a beaten track that took us down the old back roads to the familiar place. Through the windows, they saw us coming over the hills and rejoiced "Given up for dead and now alive! Given up for lost and now found!"
And so it was that on March 16th 2015, we entered Dean Street Studios, all nine of us in tow, with a backline of broken backs and shattered dreams. We fought and screamed, we drank and moaned. Some days, when he showed up, Larry got too much for us, so we'd exiled him to the bars of Soho, letting him sink over a limey larger, while Rev. D seized some spotlight. And amongst a new catalogue of democratically elected songs, a gem emerged which documented our journey to date.
'Lost and Found', released in November 2015, becomes the first single release from our forthcoming album due out on Hostage Music in 2016.
Our 13th to date, this record is a marauder of pure, soulful Rock' n' Roll, a dark waiting room, where all our fears run free. This one is a notable departure from our W.O.M.B.L.E series of mixtapes released in 2013 and 2014, though we ain't repenting for no experiments made. Does that mean we've slowed down the tempo? Hell no! You'll find a new wave of seedy acid lines steering those trademark Alabama 3 beats, through Larry and D.Wayne's absurdist brag, Aurora's soulful cry and Freebase branded licks.
We've done it all to get lost again, and the best way to ensure this happens, is to send us back out on the road. The first leg of our national tour will begin in Southampton on October 29th, kicking off a circuit of the UK with more dates to follow in 2016.
Maybe you'll get lost with us. Maybe you'll find something you didn't know was missing. Either way come armed with conspiracy theories. Come armed with good clobber. It's the right time to get paranoid!