Heyup! We've brought in an all-new Happy Hour, with new prices for our pints, spirits, bottles and we've also decided to start doing cocktails too! Don't say we're not good to you… 😉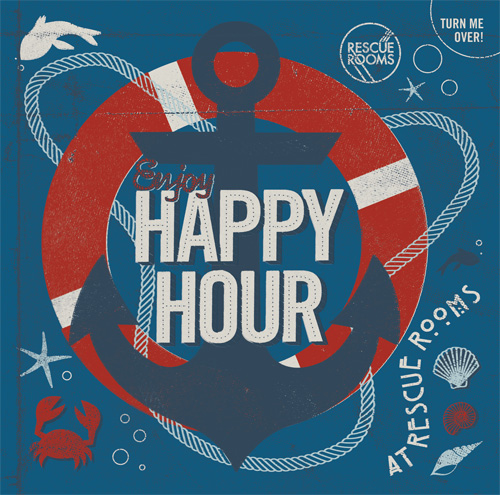 Come down and get stuck into these offers every day from 4-7pm, as well as from 8pm on Wednesdays:
£2.00 Spirit & mixer | £2.00 Carlsberg pint | £2.00 Becks bottle
£2.50 Heineken Bottle | £2.50 Wine glass | £2.50 San Miguel pint | £2.50 Peroni bottle | £2.50 Gaymers can
£3.00 Harvest Pale pint | £3.00 Kopparberg can | £3.00 Desperados bottle | £3.00 Brooklyn
Bottles of house wine £8.50
Plus all new, delicious 2-4-£7 cocktails, including:
BLACK RUSSIAN:
Absolut Vodka and Tia Maria Coffee Liqueur shaken with freshly squeezed lime. Strained with cola over crushed ice.
BASIL & GINGER MOJITO:
A twist on the classic Mojito. Havana Especial Rum muddled with fresh lime and brown sugar. Infused with bruised basil and topped with Old Jamaica ginger beer.
ICED COFFEE MARGARITA:
Patron XO Tequila, Triple Sec and fresh coffee. Topped with coffee beans.
LONG ISLAND ICED TEA:
A boozey blend of Havana Especial Rum, Jose Cuervo Tequila, Tanqueray Gin, Absolut Vodka and Triple Sec floated on top of cola.
COSMOPOLITAN:
Absolut Citron and Triple Sec, shaken with cranberry juice. Served in a chilled cocktail glass with flamed orange peel.
GIN BRAMBLE:
Tanqueray Gin, Creme de Mure Blackberry Liqueur and fresh lemon juice, shaken and strained over crushed ice.
AMARETTO SOUR:
The real deal. Amaretto Disaronno, fresh egg white, sugar and lemon. Shaken to a velvety finish.
SINGAPORE GIN SLING:
Tanqueray Gin, Benedictine and Cherry syrup. Served in a tall glass over crushed ice.
….which all sounds rather delicious!!