Hello folks! How's your 2018 going? Bit slow? In need of a change? Then why not come and work with us at Nottingham's coolest venue. We're now in our 15th year and we're going as strong as ever, so now is the perfect time to join up! Find out more below…
DHP Venue Assistant Manager – Rescue Rooms
DHP Venue Assistant Manager
JOB TITLE: Venue Assistant Manager
TEAM/DEPARTMENT: Rescue Rooms
LOCATION: Nottingham
REPORTS TO: Deputy Manager & General Manager
RESPONSIBLE FOR: Venue Staff, Security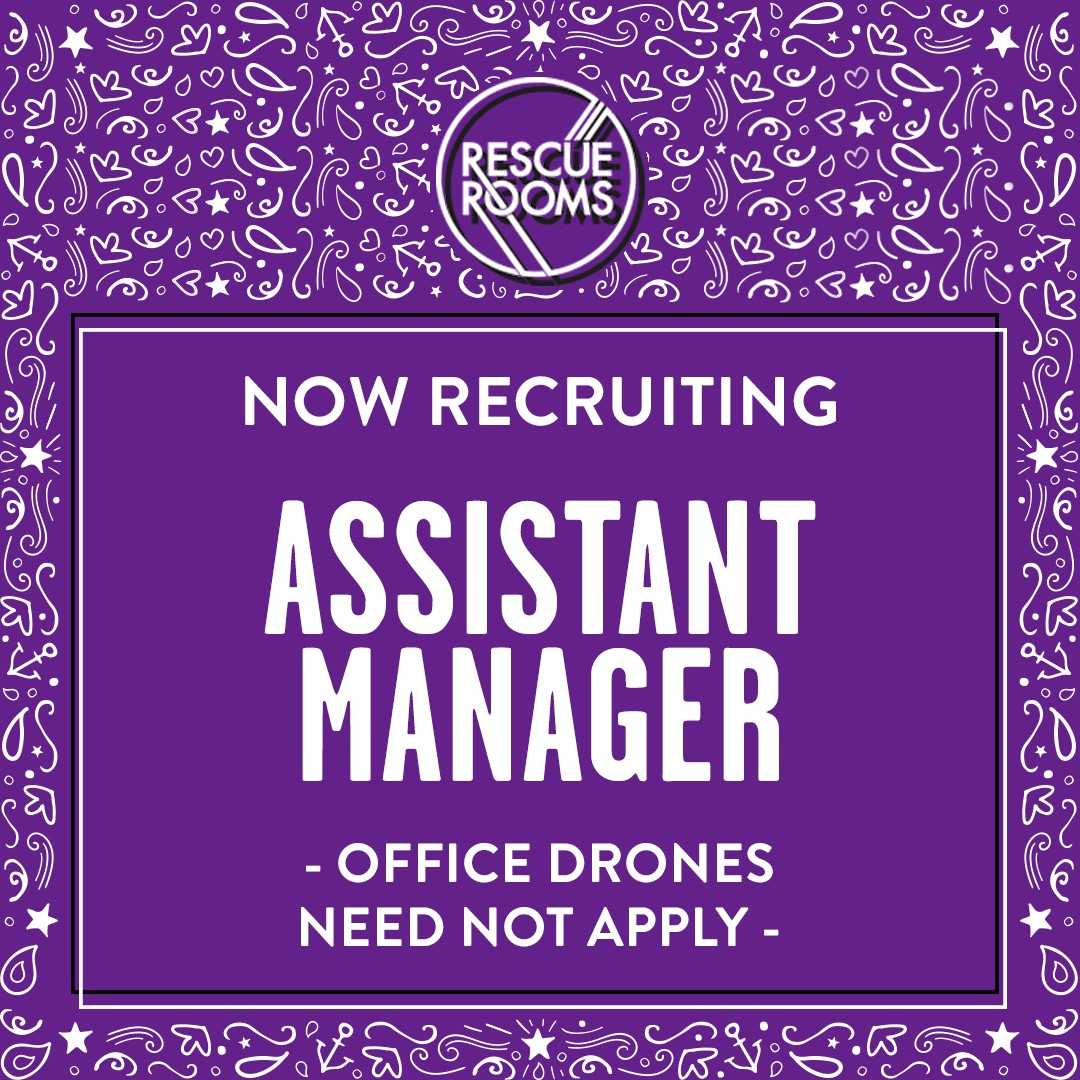 Context
Rescue Rooms is one of the coolest bar, live music & nightclub venues in Nottingham. Celebrating their 15th year, it's become a household name in the city. A rare opportunity to be part of the team at Rescue Rooms has come up, and if you feel you have the knowledge, drive and excellence to help manage such a prestigious venue we would like to hear from you.
Job Purpose
To ensure the venue is operating at a safe and excellent level of service through management of venue staff and compliance procedures and to ensure the venue is operating at a profit through monitoring of controllable costs on a nightly basis. To ensure all venue staff are meeting the requirements set out for their particular job.
To provide support to the Deputy Manager and General Manager through duty shift management and any other duty as reasonably requested.
Key Responsibilities
1. Duty & Shift Management of the Venues
Responsible for ensuring the venue is safe for staff and customers and completion of venue checklists and monitoring during opening hours.
Responsible for delegated DPS role for the venue when the duty managing (DPS not present) and ensure that the venue is operating according to Licensing laws and conditions of the venue license.
Briefing bar staff and security
Managing all venue staff's performance at the event (including prep and end of night), including providing feedback to staff and relevant manager where required and taking any disciplinary actions where necessary.
High level of performance during clubnight operation
Dealing with bands and tour managers
Performing settlements
Cashing up tills
Creating P&L's and distributing internally
Alarming and securing both venues
2. Co-ordination of Bar Personnel
Production of rotas for bar personnel in a suitable time frame as requested by the General Manager
Production of rotas for cleaning personnel in a suitable time frame as requested by the General Manager
Bar personnel and cleaners to be rota'd in accordance with budget and financial targets as distributed by the General Manager
3. Management
Venue Systems & Procedures
Security
Liaising with Security on show days and club nights
Generating Security briefs to be presented to security staff on a nightly basis
Assistance to GM
Assist the Deputy Manager and General Manager in the venue operation, including staffing or systems as directed by the manager
Covering the work of other Assistant Managers during their absence (holidays, illness etc) as directed by the General Manager
Finance
Comply with and ensure that company financial procedures are kept
Maintenance of venue accounts sheets: P&L
Compliance
Responsible for production, completion and verification of venue compliance documentation (bar refusal sheets, bar hygiene checklists, club checks, closing club checks, toilet check sheets, housekeeping records, accident reports)
Responsible for the completion of the venue's weekly filing system
Updating and monitoring the company's accident management system
4. Recruitment & Development of staff
Involved in the recruitment, training, appraisal and development of venue staff (retail, reception, cloakroom, cleaners, maintenance)
Providing assistance to the General Manager in knowledge and development of personnel standards and execution of sales procedures; including food service, table service and bar service
Key Working Relationships
Internal
Rescue Rooms Management Team
DHP Family Promoters
Finance Department
Event Staff (including tech, security, bar)
External
Visiting bands, DJ's and artistes
3rd party promoters
Suppliers and contractors
Security company & staff
If this role excites you and you are interested in developing a career with an award winning industry leader, then please email your covering letter, current and expected salary and a CV to careers(at)dhpfamily.com
DHP Family is a committed Equal Opportunities employer promoting equality of opportunity. This means that everyone who either applies to or works for the Organization is treated equally, and we welcome applications from candidates no matter their gender, age, ethnic origin, nationality, marital status, disability, sexual orientation or religious beliefs.
Please note that due to the number of applications we may receive, we may not be able to reply to all applications.